Fast-drying 2K Filler F310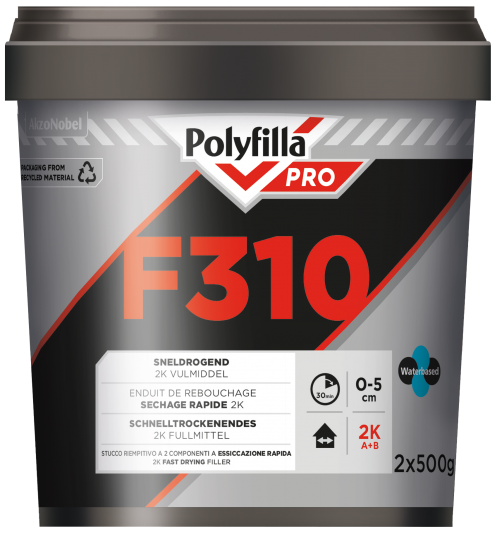 Fast-drying 2K Filler – F310 is suitable for quickly filling and repairing large holes and damage in stony surfaces.
Are you ready to paint a wall, but is there still a major damage that has not been repaired? You can repair this quickly and easily with Quick-Drying 2K Filler.
No need to wait long for it to dry. Thanks to the short drying time of 20 minutes, you can quickly continue painting after repair.
The 2K paste is easy to mix 1-to-1. In addition, the product swells slightly after filling. This prevents shrinking and cracking during drying. This means that a second filling is not necessary. After drying, you can easily sand the repair smooth again.
Fast drying 2K Filler – F310 is screw, drill and nail resistant. It is suitable for indoor and outdoor use and adheres excellently to all stony surfaces.
Do you want to repair minor damage quickly? Then use Fast Drying Filler – F300.
Sneldrogend: na 20 minuten droog
Zwelt licht op; voorkomt krimp en scheuren
Eenvoudig glad te schuren
Schroef- boor- en spijkervast
Voor binnen
Processing time
10 minutes
Processing temperature from
5 °C
Processing temperature to
30 °C
Repaintable after
30 minutes